L'Oreal has a line of HIP (High Intensity Pigment) products which include duo eyeshadow, pigments, and cream eyeliner. Each contain 0.159oz /4.5g retailing from $10-$12 depending on the drugstore (Target, Walgreen, CVS, Rite Aid, etc). These come in a nice glass jar and each package include an eyeliner brush. However, the brush is terrible because it is very scratchy and flimsy, making it difficult to create a precise line. I tossed all the brushes that came with the 4 colors I purchased. The line comes in 5 basic colors for everyday use (
Black, Midnight Blue, Brown, Teal,
and
Eggplant
).
Teal
is a really beautiful bluish green color that applies very bright on the eye. It reminds me a lot of MAC Undercurrent Pearlglide but has more blue.
Midnight Blue
is a deep Navy color with slight shimmer. Another beautiful color to pair with a light blue eye combo.
Brown
is your typical medium brown liner.
Eggplant
is a dark purple that applies very nicely paired with a pink or light purple look. It's quite similar to the dark purple pigment in Stacked 1!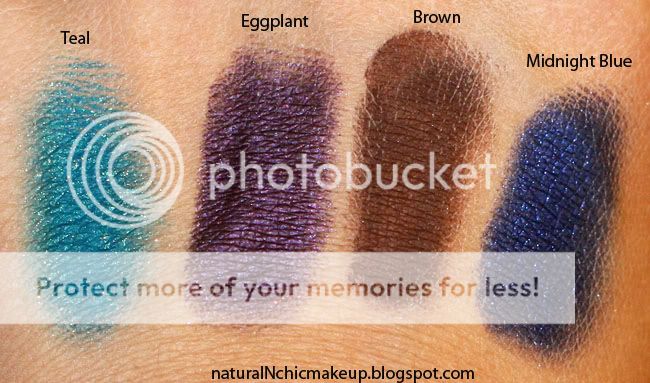 Overall I love these cream eyeliners because of the great pigmentation as you can see in the swatches. It only took one swipe for these colors to show up on my hand. These are also very creamy and easy to use. The best time to pick these up is when drugstores have BOGO sales. The only real downside to these is that they dry up over a period of time. Easiest solution is to warm them up with a hairdryer and they're good to go again. These are definitely comparable to high end liners! I think they may even be great as GPS alternatives. What do you think?