MAC is releasing yet another collection,
Pret-A-Papier
in stores this Thursday, 4/22/2010 but the collection is already online if you can't wait to see it in person. It is a much bigger collection compared to
Prep For Colour
. Here are some details/images from Specktra.net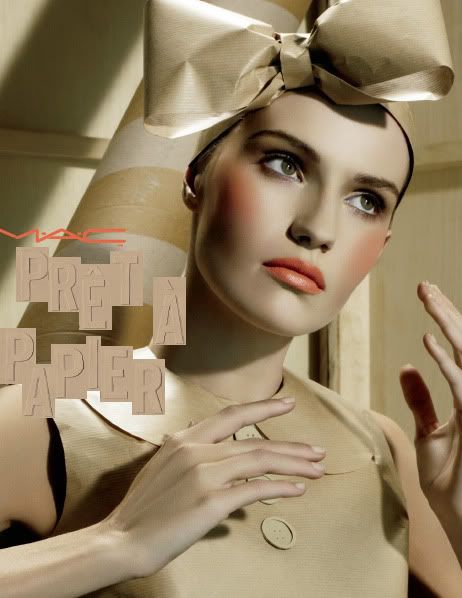 Chromagraphic Pencil
$14.50 U.S. / $17.50 CDN
NC 15 / NW 20
NW 25 / NC 30
Impeccable Brow Penci
l $15.00 U.S. / $18.00 CDN
Dirty Blonde - Blackened Dark Neutral-Brown
Taupe - Mid-Tone Dirty-Taupe
Studio Fix Lash
$13.00 U.S. / $15.50 CDN
Sheertone Blush
– $18.50 U.S. / $22.00 CDN
Instant Chic - Mid-Tone Muted Coral
Garb - Light Golden Suntan
Mineralize Blush
$23.00 U.S. / $27.50 CDN
Light Over Dark - Light Yellow Brown/ Dark Peach (Frost)
Paint Pot
$16.50 U.S. / $22.00 CDN
Coral Crepe - Soft Coral
Ground Work - Mid Tone Neutral Taupe
Lipstick
$14.00 U.S. / $16.50 CDN
ArcheType - Sheer Light Gold (Lustre)
Dressmaker, Dressmaker - Creamy Light Peach Coral (Lustre)
Made To Order - Creamy Mid-Tone Dirty Coral (Lustre)
Kraft - Creamy Mid-Tone Warm Brown (Amplified)
Lipglass
$14.00 U.S. / $16.50 CDN
C-Thru - Peachy – Beige With Shimmer
Fold and Tuck - Mid-Tone Bright Coral W/ Soft Pearl
Pret-a-Papier - Dark Reddened Bronze W/ Pearl
Eye Shadow
$14.50 U.S. / $17.50 CDN
Tissue Weight - Frosted Pale Peach (Frost)
Bamboo - Light Beige with Peach (Matte)
Cut To Fit - Frosted Red-Bronze (Frost)
Gazette Grey - Dark Green-Grey With Gold-Pearl (Velvet)
Memorabilia - Dirty Purple (Matte)
Nail Lacquer
$12.00 U.S. / $14.50 CDN
Brown Bag - Mid-Tone Warm Dirty Beige (Cream)
Originality - Sparkly Copper Bronze (Frost)
As much as I love MAC, I can't really keep up with all the collections being released. There are at least 2 a month and it's detrimental to my wallet! All kidding aside, I feel very iffy about this collection because I think the coral theme is overplayed. I can think of at least 3 other brands that released similar collections that all contain coral. Although spring/summer is here, I would like to see a bit more color concentration in pink, yellow, gold, or even bright red instead. The idea behind the paper theme is neat but the eyeshadow colors are again dupable. I think the most I'll pick up is
Instant Chic
blush,
Dressmaker, Dressmaker
lipstick and maybe..just maybe
Coral Crepe
Paint Pot. Although I'm close to leaning towards picking up nothing at all =) But no worries, I'll have swatches up of the entire collection when it launches for you.
What do you think of Pret-A-Papier? Are you planning to pick anything up?