MAC Dare To Wear Collection has officially been released at all MAC counters today with bright eye catching colors. There are a total of 6 limited edition lipglasses and 3 permanent/3 PRO/5 limited edition/1 repromote eyeshadows. Let's get to it shall we?
First up, we have the six lipglasses retailing at $18USD for 0.17 oz in a skinny plastic tube with doe foot applicators. These are nicely pigmented and don't have large chunks of glitters compared to Dazzleglasses. They are not as sticky as the regular lipglasses but are still tacky when the lips are pressed together. You can either sheer out the colors or apply more layers to create a bold look, making these suitable for all skin tones.
I surprisingly like all the bright bold colors in this collection but am turned off by the glitter. Although they are much smaller/finer, they tend to migrate all around the lips/chin/bottom of nostril once they dry or if you accidentally touch your lips. That's a definite no go for me. I wish they would release these colors without the glitter because they are very pretty.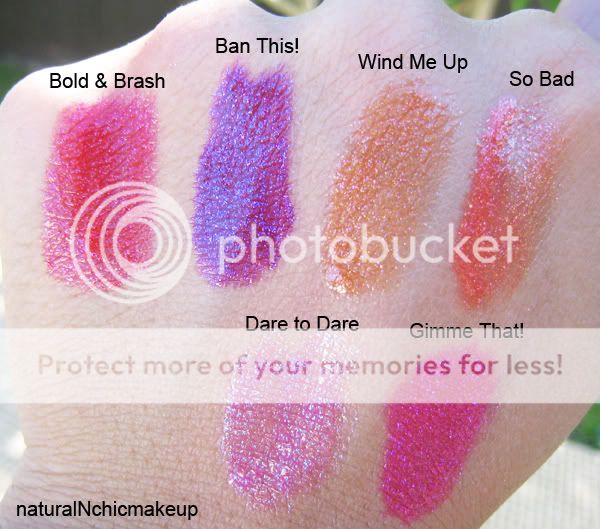 Top Picks:
Bold & Brash, Ban This!, Gimme That!
Bold & Brash
is a coral bright red with reddish/pink/silver pearl. This instantly lights up the face when I had it on my lips. It reminds me a lot of Snow White's red lips in the cartoon.
Ban This!
is a deep purple with blue/purple pearl that's very eye catchy in the swatch. I am strangely attracted to this color although it's completely out of my usual neutral shades. Tried it on the lips and it's a pretty plum/purple color when sheered out.
Wind Me Up
is a bronze with pink and gold pearl. You need to layer it on several times before the color show up. I've seen this released before so nothing special to me.
So Bad
is a coral orange with pink and gold pearl that's very pretty on the swatch but needs several application for the coral to show up. Otherwise, it just looks like glitter galore on the lips.
Dare to Dare
is a light blue pink with pink/blue/silver pearl that's pretty in the swatch but again nothing special IMHO. This takes a couple of applications for the color to show up. It will look pretty layered on top of a lipstick.
Gimme That!
is a bright fuchsia pink with pink pearl that's pretty and has good pigmentation. You can either have a bold lip with a couple of application or sheered out for a nice fuchsia lip.
Here they are again in darker lighting.
Next are 12 shades of glaringly bright, bold, and super loud eyeshadows. Majority of the colors are Mattes which can be difficult to swatch. Out of the 12, I only like a very few of them for the same reason. Some colors simply refuse to adhere to the skin or is extremely chalky. Those who like bold looks will enjoy these vibrant colors but do note application can be tricky.
The swatches below are of the colors in dark lighting.
Top Picks:
Lime, Zingy, Winkle, Aqua, Louder Please, Sassy Grass because these were the easiest to swatch. I don't find any of the colors particularly enticing since I'm a neutral type of gal.
Crazy Cool
is a
limited edition
frosty lavender in Velux Pearl formula. I wanted to like this color but it was difficult to see on the skin. This took about 5 applications. Very pretty soft color but disappoints as a VP.
Louder Please
is a
limited edition
bright fuchsia/reddish pink in Matte formula. This took only 2 swipes and is one of the smoothest mattes in the collection. This is almost a redder version of Post Haste.
Zingy
is a
imited edition
bright blue in Matte formula
.
I like this color because it's beautiful and bold but not fussy. This reminds me of Electric Eel from the perm collection.
Sassy Grass
is a
limited edition
green in Matte formula.
This took 3 swipes and is pretty smooth.
Shock-a-holic
is a
limited edition
bright deep purple in Matte formula
.
This one is fussy! It took many swipes for the color to show up and is chalky.
Aqua
is a pale aqua for in Matte formula that's a PRO color. I like this since it was easy to swatch and have nice pigmentation. I can see this as an inner corner color for a blue smokey eye. It's similar to one of the colors in Blue My Mind Trio but more muted.
Lime
is a yellow green Matte formula that's a PRO color. This is very smooth and took only 2 swipes.
Sky Blue
is a sky blue in Frost formula that's a PRO color. This was a bit crumbly upon application. We've seen this before in MAC's mineralized eyeshadows.
Atlantic Blue
is a permanent bright violet blue in Matte formula. This color didn't want to be swatched. I had to swipe 6-7 times for the color to show. It's chalky and difficult to work with. I'm not sure if it's the tester but that's my personal experience with it.
Free to Be
is a
coral in Matte formula that's permanent. I would say skip this and pick up Sushi Flower instead. This was another fussy color that wouldn't show up.
Winkle
is a medium blue in Satin formula that's permanent. It was a relief to swatch this because of the satin finish; smooth and pigmented.
Going Bananas
is a Repromote yellow in Frost formula. This reminds me of a brighter, more pigmented yellow color I previously reviewed in NYX 5 eyeshadow Palette. This took a couple of swipes and somewhat crumbled on my arm.
Here are the colors again in brighter lighting!
Overall, fun collection for makeup artists and those who love vibrant colors. Pigmentation definitely needs to improve since they are difficult to apply. I love all of the colors of the bright lipglasses but am wary of glitter migration.
What's your take on Dare To Wear? Did you pick up anything? Do share!