Fall season is all about the classic red/plum and no other brand does it better than Lancome this year. French Coquettes is created by Lancôme Artistic Makeup Director Aaron De Mey. The collection "captures the spirit of the modern woman at the start of the 20th century, heralding the signature hallmarks of French glamour". I find French Coquettes mesmerizing from the models' looks to the slight shimmer in each lip color. It's definitely wearable for women of all ages and skin tones.
Image courtesy of Lancome website
Ombre Magnetique / Spectacular Sparkle $25USD
Black Macadam
is a black with silver glitter.
Urban Silver
is a silver with light blue undertone when swatch under yellow lighting.
Cherry Cherie
is a plum with slight shimmer
La Rose Deco $40USD
Rosy Glow
is in the form of a rose as shown in image below from Lancome website. The light pink side can be used as a highlighter
and the darker medium pink as a blush. You can also swirl the two together to create an all over color to brighten the face. I found Rosy Glow to be smooth and not as powdery compared to Burberry's blushes. This is a lovely cool tone color suitable for light to medium skin tones. The light portion of Rosy Glow might be ashy on darker skin tones.
Color Design Eye Shadow Quad $42USD (Limited Edition)
French Touch
consists of a satin white, shimmery pink with golden undertone, purple with silver shimmer, and soft plum eyeshadow. My favorite color in the quad is the dark purple. It is nicely pigmented and took only 2 swipes for each color. These are more of satin finish with the shimmery pink having a bit more fallout compared to the rest of the colors in the quad.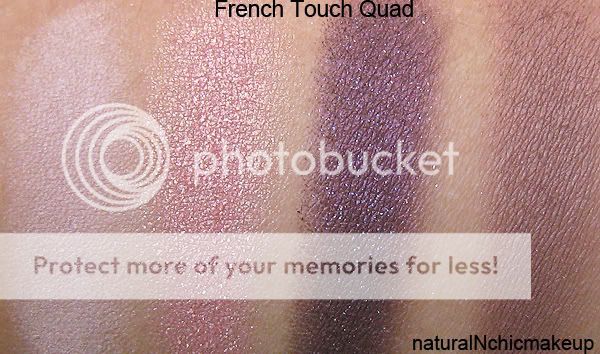 L'Absolu Rouge $29USD
Rose Divine
is a medium red. It is a brighter version of Chanel's Mademoiselle. I can see this being a flattering color for all skin tones.
Parisian Attraction
is darker than Rose Divine and cooler tone. Those who find Rose Divine too bright will like this color. All of the Lancome lipsticks go on smooth with a strong rosy/watermelon fragrance similar to YSL Rouge Volupte.
Cherry Kiki
is a medium plum that can be sheered out or build up to darker plum depending on the # of applications.
Rendez-vous
is not part of this collection yet it's on every counter so I'm not sure. It's a brownish red/brick color that's darker than Parisian Attraction.
La Laque Fever Lipglosses, $26.50USD
Sensation
is a gorgeous MLBB mid pink with shimmer. All the Lipglosses are slightly sticky, goes on smooth, and has the same rosy fragrance as the lipsticks.
Nude Rose
is a light pink with shimmer. This goes on practically clear on my lips so it's best to layer on top of a lipstick.
Plum Fetish
is a pretty dark plum that's wearable with a neutral eye look. It has red/gold shimmer.
Rouge Temptress
is an eye catching red with gold/red shimmer that's very much Snow White lips.
Kissed by Paris
consists of a peachy pink with shimmer, medium red, and medium plum nail colors. Please pardon the sloppy swatches on my nails. I'm in desperate need of a manicure but here it is anyway to give you an idea of the colors. The trio has three small nail polishes which are similar to the lipstick Rose Divine, lipgloss Nude Rose, and Plum Fetish. My favorite is Nude Rose. All swatches are done with only 1 coat. I had no issues applying these; they were not streaky and went on very smoothly.
Overall, I think Lancome did a great job with French Coquettes. The colors are wearable for all skin tones and nicely pigmented with good texture. I do wish the lipsticks and lipglosses wouldn't have such strong fragrances. However I love the lipglosses much better compared to Juicy Tubes because they are not overly sticky or tacky. They leave a pretty glossy effect on the lips and are supposed to have good wear time. If you are a lover of reds/plums, I think French Coquettes will be right up your aisle. The collection is now available at all local Lancome counters and on the Lancome website.
My top picks
: Rosy Glow, French Touch Quad, Rose Divine lipstick, Sensation lipgloss, Rouge Temptress lipgloss, Kissed by Paris Le Venis Trio
What is your impression of French Coquettes? Did anything tickle your fancy?