All my fellow tweeter buddies know I've been whining about not being able to pick up Jazzed or Stereo Rose back when it was released. To some very fortunately circumstances, I now own both and was super excited to try them out in a look yesterday. It's probably one of my favorite looks but since I'm camera shy, I'll share with you only my EOTD/LOTD.
Products used:
Brushes
: 130, 131, 224, 239, Crown Italian Badger Round Crease Brush
Eyes
: Urban Decay Primer Potion, Diorshow mascara, MAC Her Glitz, MAC Plank
Face
: Laura Mercier Tinted Moisturizer in Nude, Jill Stuart Smooth Silk Powder Foundation N in Nude
Cheeks
: Stereo Rose
Lips
: MAC Jazzed, MAC Melt In Your Mouth Cremesheen
Swatches of the colors in dark lighting:
The colors again with outdoor lighting: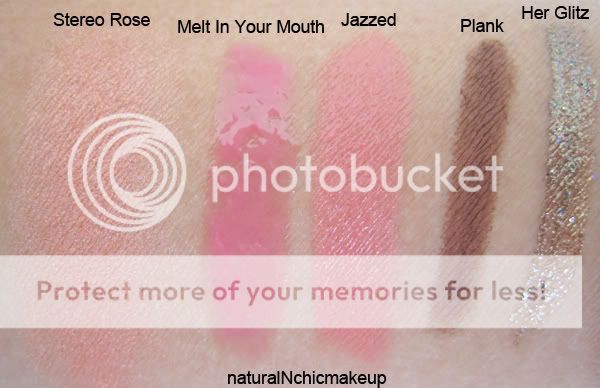 I did a simple neutral eye using Tet-A-Tint all over the lid, Cosmic from mid lid outwards, Twinks in the crease, and White Frost from inner corner to middle of lid. Line upper lid with Her Glitz, lower lid with Plank.
The lips is a soft peachy pink combination of Jazzed lipstick followed by Melt In Your Mouth layered on top.
I hope everyone's having a wonderful weekend.
What is your favorite FOTD? Do share!