Cruella De Vil
Lipstick ($15.50USD)
Innocence, Beware!
is a beige pink in Cremesheen formula. As much as I hate to admit, I'm starting to dislike cremesheens lipsticks because they don't apply very well on the lips. This is a nude lip color that's not particularly unique.
Heartless
is a beautiful blue-tone red in Amplified formula. This is a red that will be flattering on all skin tones.
Lipglass ($15.50USD)
Devilishly Stylish
is a beige with gold pearl that's rather pretty. I see a tinge of champagne in the swatch. You can pair this with Innocence, Beware! lipstick for a glossy finish or with any other colors. It's best used over a lipstick or on its own for a nude lip.
Wicked Ways
is a cherry red that's less orange compared to Heartless lipstick. This is opaque and can be used by itself. I wouldn't pair this over Heartless because each color is unique in its own way.
Eyeshadow ($15.50USD)
De-vil
is a rich copper in Veluxe Pearl formula. This color is smooth and nicely pigmented so no issues with the swatch.
Sweet joy
is a creamy gold in Frost formula. It leans more yellow/gold but it similar to colors MAC has released in prior collections. It's not a must have but is a great color for inner corner or highlight.
Carbon
is part of the permanent collection so I did not swatch it. This is a black in Matte formula.
Swatches without flash:
Swatches with flash:
Beauty Powder ($25USD)
Her Own Devices
is a cool nude that's very wearable. I like these colors for a light flush of color on the cheeks or for contouring. This will be good for light to medium skin tones. I'm not sure if it'll show up on darker skin tones.
Powder Blush ($18.50USD)
Darkly My Dear
is a mid-tone brown plum in Matte formula. It is dark in the pan and actually came out rather dark on myself as well. The blush is very nicely pigmented and is probably more suitable for darker skin tones. For light and medium skin tones, it is best to use a skunk brush to apply.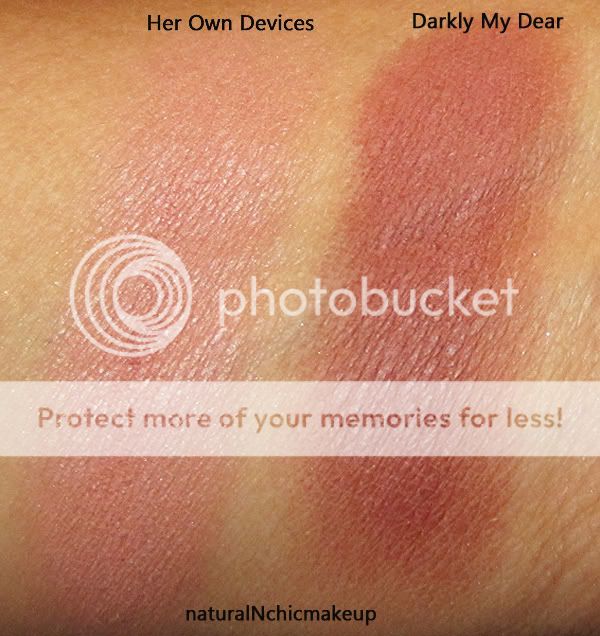 Overall, this is a wearable set ranging from nudes to reds that compliment every skintone, especially light to medium. My favorite pieces are the red lipstick, both lipglasses, and the beauty powder. None of the eyeshadows really stood out to me even if they are pigmented. If you are new to MAC, Cruella De Vil is a good start to pick up the basic neutrals to pair with classic red lips. Long time MAC collectors or bold color lovers might find this a bit boring because similar colors have been released by MAC in previous collections.
In terms of packaging, I will admit I first found them childish/juvenile, even downright ugly. However, I think these characters really grew on me so it's not so bad after all. The designs of Cruella are colorful and vibrant against a glossy black background. These are also printed onto the package, not cheap stickers like previous collections.
What are your thoughts on Cruella de Vil?