This year, Giorgio Armani offers 4 value kits that are currently available for purchase at Nordstrom. I wasn't aware of these sets until the wonderful counter manager of Giorgio Armani at my local counter introduced them to me.
Carmi Santiano is really sweet and helpful, so if you have any questions about the kits, lipstick shades selection, or the makeup line, please give her a call at 408-248-2180 ext 1769 and ask for the Giorgio Armani makeup counter.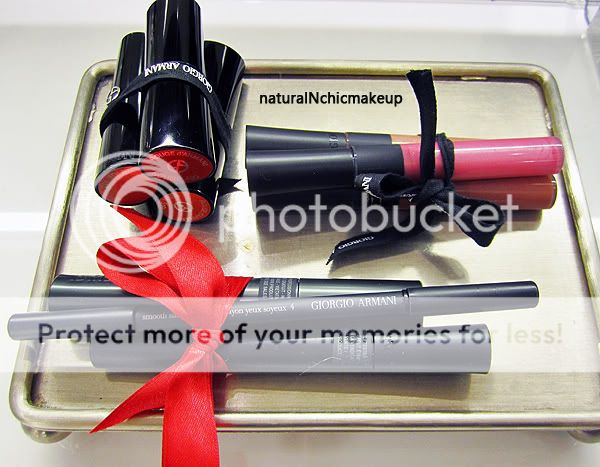 First up, we have the Giorgio Armani 'Rouge d'Armani' Holiday Set retailing at
$59USD. The set has 3 full size lipsticks in Beige 103, Pink 510, and Rouge 400. This is like buying 2 lipsticks and getting one free since each individual lipstick costs $30USD. I think this set is an excellent deal. I tried on all 3 shades and they all apply & felt wonderful on the lips. Beige 103 is a great nude lip, Pink 510 is a MLBB shade, and Rouge 400 is an intensely sexy red. To see swatches of the shades, see my previous review of Rouge D'Armani here.
If you're not much of a lipstick fan, you can check out the Giorgio Armani Lip Shimmer Set retailing at $49USD.
This set includes Lip Shimmers #9, #16 and #21. Since each Lip Shimmer retails for $27USD, you are getting 3 for less than the price of 2 in this kit. These go on smoothly and are not overly sticky or tacky. Similar to the lipsticks, I don't remember being bothered by a strong fragrance after application.
#9
is a shimmery pink. This is such a beautiful color that really tempted me to purchase this set.
#16
is a sheer shimmery gold. I think this shades is best layered on top of a lipstick but is too sheer by itself.
#21
is a MLBB opaque rose color.This shade and #9 are my favorite colors for a natural lip combo.
For a complete eye kit, there is the Giorgio Armani Holiday Eye Look Set retailing at $49USD. The set includes Soft Lash Base, Eyes to Kill Mascara #1 in Black and Smooth Silk Eye Pencil #4. GA's Soft Lash Base alone costs $28USD, Eyes to Kill Mascara is $30USD, and Smooth Silk Eye Pencil is $27USD. Do the math and you'll quickly see this set is a great deal!
Last but not least, we have the Giorgio Armani Face Kit retailing at $115USD. The kit includes Fluid Master Primer (1 oz.), Luminous Silk Foundation (1 oz.), travel Blender Brush, and deluxe samples of Fluid Sheer Foundation. You are basically getting the travel blender brush, Giorgio Armani pouch, and the deluxe samples for free in the set, since Luminous Silk is $59USD and the Master Primer is $56USD. Image from Nordstrom's website.
Since all of these value sets are limited edition, I recommend visiting your local Giorgio Armani counters to reserve one before they run out. I have to say I'm very impressed with these kits as you're definitely getting the best bang for your buck. I really like that the sets include full size items, and not those mini lipsticks or "deluxe" size items. Sets with full size items for a fraction of the prices - that's pretty enticing don't you think?
Did any of these sets tickle your fancy?