Creme de La Mer is a luxurious moisturizer that is coveted by many. It was created by
NASA aerospace physicist, Dr. Max Huber to help heal his burned skin from a lab accident. The creme is costly because it contains a specific seaweed taken off the north coast of California, that can only be harvested twice a year. There have been many discussions on the effectiveness of the creme and whether or not it's truly worth the high price. During my research on the creme, I found several forums touting Nivea Creme as the cheaper and better version of Creme de la Mer. Here I share with you my thoughts and recommendations on both.
First is Creme de La Mer which costs $135USD for 1oz. This can be purchased directly from La Mer's website, Nordstrom, Neiman Marcus, Bloomingdales, etc. Typically the La Mer website will have deluxe samples with every purchase (0.11oz or 0.24oz). Below is a comparison picture to show you some of the different sizes of the Creme de La Mer.
Each of these come in a sturdy and rather heavy white jar.
Each jar comes with a green stand and a white spatula, which lies at the bottom of the package.
Twist open the cap to find a slightly thick creme that has a rather pleasant smell. I love the fragrance of the creme. To use Creme de la Mer, warm up a small amount between your palm or fingertips until the creme turns from white to clear, and gently press onto your face. If you rub the creme directly onto your face without warming it up, you will find the creme heavy and difficult to use. For maximum benefit, it is important to apply Creme de la Mer to skin that is thoroughly dry and follow the enclosed directions carefully.
Nivea Creme range from 0.99USD to $8USD depending on the size. It comes in a simple plastic blue jar (200mL) or round tin (150mL). Either of these cremes contain a spatula to scoop out the product so you'll have to stick your fingers in them.
The ingredients can be found at the bottom of the blue jar by peeling off the sticker.
Now this is where the true comparison comes in for Creme de La Mer and Nivea Creme. There are 2 types of Nivea Creme, one that is manufactured in Hamburg, Germany and one from Mexico. You will have to look closely at the labels to find out where the creme is made. I purchased 2 jars from England and 2 from Switzerland but made sure they were all made in Germany. For those who are in the US, the stores only carry the cremes made in Mexico as shown in the label below: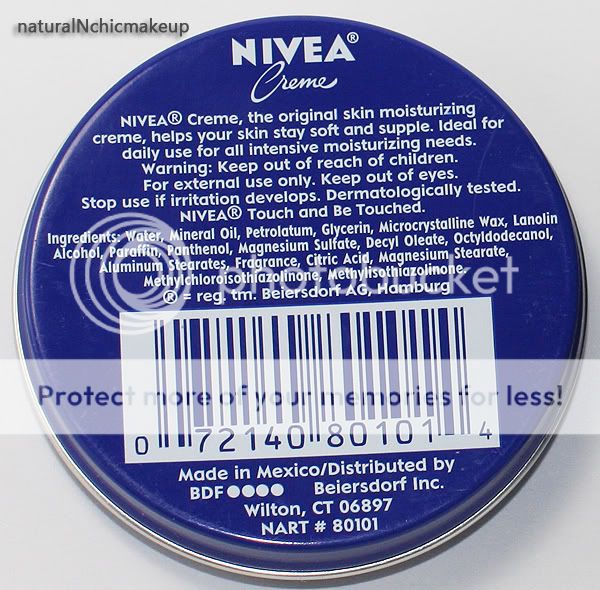 The Nivea Creme made in Mexico is different and has less ingredients compared from the one made in Germany.
The ingredients in Creme de La Mer listed below are similar to Nivea Creme Germany but the biggest difference is in the seaweed extracts.
In a side by side comparison, you can see the creme made in Mexico looks a lot thinner and feels waxier compared to the Germany creme.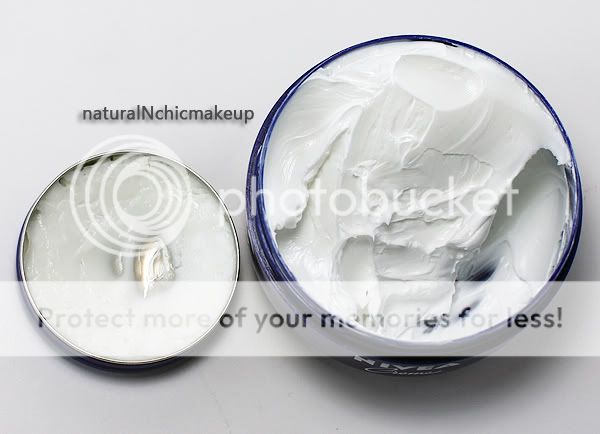 Here is a close up shot of the Nivea Creme from Mexico.
A side by side comparison of Creme de la Mer and Nivea Creme from Germany shows the texture a bit more similar. However, Creme de La Mer is lighter and not as thick compared to Nivea Creme from Germany.
From my personal experience, Creme de La Mer is a very good creme to use for those battling with dry skin. This was a huge skin savor for me during a cold, snowy winter in New York. However, I would caution using Creme de La Mer daily because mineral oil in this creme can cause some breakouts.
Both cremes have a very similar scent but when applied, I can feel a distinct difference between the thickness of the 2 cremes. The Nivea Creme from Germany on the left is much heavier and more difficult to spread compared to Creme de La Mer on the right. It also takes twice as long to warm up the Nivea Creme. When I apply Creme de La Mer, it sinks into my skin right away, whereas with Nivea, I have to wait a good 5-10 minutes before it gets somewhat absorbed.
I personally would not recommend using Nivea Creme on the face for sensitive and acne-prone skins because it is simply too heavy. This would be a good creme to use on other parts of the body such as your hands, legs, elbows, feet, knees, etc.
Nivea Creme from Mexico in comparison, is much thinner as you can see below. The smell is the same as Nivea Creme from Germany and Creme de La Mer. However, it feels like waxy petroleum and does not need to be warmed up before application. Similar to the creme made in Germany, it doesn't get absorbed quickly and leaves a sticky, shiny film on the skin.
Creme de La Mer costs considerably more compared to Nivea Creme although some of the ingredients are similar. The hard to find seaweed that's harvested twice a year to create the "miracle broth" is the biggest cost factor.
In the end, Nivea Creme is really not the same as Creme de La Mer in terms of texture and feel on the skin. They may smell similar and contain some of the same ingredients but La Mer is still in a league of its own. My dry patches disappear much faster when I use Creme de La Mer and I break out right away using Nivea Creme Germany. I would say Nivea Creme from Germany is a more affordable moisturizer if you don't have acne-prone, sensitive skin and are looking for a very thick, heavy creme. I do not recommend Nivea Creme from Mexico for any skin types because it performs poorly as a moisturizer.
Bottom line
: Splurge on La Mer for softer, moisturized skin but don't use daily for those with acne-prone, sensitive skin. The best place to purchase these is at a duty free stores or directly on La Mer's website because they give 3 gifts with every order. If you do want to buy Nivea Creme, try to get the ones made in Germany,which can be found on Amazon.
What are your thoughts on Nivea vs. La Mer? Have you tried either one?