Chanel Summer 2010 Collection has 3 new limited edition Glossimer shades in Pensee (277), Pink Peony (267), and Aurore (287). These all retail for $28.50USD and are available at Chanel online, Nordstroms, Macy's, Bloomingdales, etc. I first saw these pop up on Chanel's website but was on a no-buy due to Lent. I was definitely curious about the colors and got a sneak peek thanks to Sabrina from TheBeautyLookBook. She wrote a great post with swatches and comparisons on them
here
.
I love the names of these glosses as they're so fitting for the summer season. If you are a lover of shimmer, these glosses will not disappoint. All of Chanel's Glossimers come with a doe-foot tip applicator.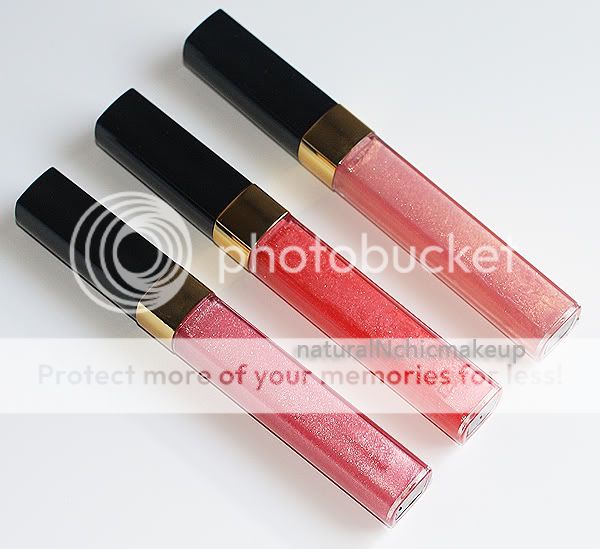 Pink Peony
(267) is a medium pink with silver shimmer.
Pensee
(277)
is a red coral with gold shimmer.
Aurore
(287) is a milky baby pink with gold and violet shimmer in the tube.
From a first glance at the tubes alone, all of the Glossimers look very shimmery and beautiful.
Here they are again. You can clearly see the distinct shimmer colors in each of the tubes. Pink Peony shows the silver shimmers, Pensee's gold shimmers twinkle brightly, and Aurore shows a golden sheen.
Swatches reflect exactly what's seen in the tubes both in color and shimmer with the exception of Aurore. In the tube, it is a milky pink but in the swatch, Aurore is a golden shade with gold and violet shimmers. On my lips, there is no hint of the milky pink shade. Pensee is somewhat similar to Nakkar, a red coral with gold shimmer. Pink Peony is a medium pink with silver shimmer but applies nearly sheer on my lips.
Swatch in darker lighting. All of the Glossimers provide a glossy sheen to the lips, making it look shiny and luscious. These are not sticky and have great wear time. I am a huge fan of Chanel's Glossimers.
Overall, the Glossimers look incredible in the tubes but are much sheerer on the lips. These are not opaque and are best layered on top of a lipstick. By themselves, they are sheer with Pensee giving off a slight hint of coral red on the lips. I'm personally not a fan of apparent shimmer in glosses or lipsticks so these aren't particularly my favorites. Out of the 3, Aurore's shimmer are actually the most subtle. I think this is because there are several colors, which blend in seamlessly. Pensee in comparison, only has gold shimmers so there are random pieces of gold on my lips.
Bottom Line
:
If you're on a budget and already own a lot of Glossimers, Aurore is probably the most unique one to pick up. If you're on a budget and want to try Glossimers for the first time, Aurore is a good start but also look at more opaque colors such as Bel Air, Waterlily, Wild Rose, etc. If you're not on a budget and a lover of shimmery glosses, all 3 shades will be for you.
Which shade speaks to you most?