Rose Platine Stylo Yeux Waterproof Eyeliner was released in Chanel's Summer 2011 Collection. It retails for $29USD and is advertised as a "waterproof, smudge-proof eyeliner". When Ilse from TheUltimateMakeup first raved about this eyeliner, I knew it was on my list of things to check out.
I have a ton of eyeliners from MAC and Urban Decay but have yet to purchase one from Chanel. In all honesty, I really thought $29USD was rather expensive for an eyeliner. I wasn't really blown away by any of the previous colors until Rose Platine made its appearance.
Rose Platine is a twist up pencil that is similar to MAC's Technakohl packaging.
At first glance, it's a simple pencil with nothing extraordinary about it. However, read the inserts carefully and you will find a cute little treasure hidden. Lightly tug at the end of the pencil to find a mini sharpener.
I really like the sharpener, which is very convenient for traveling purposes.
It makes my palm look ginormous.
If you're unsure how to use the sharpener, Chanel included a tutorial complete with step-by-step instructions.
When I first saw Rose Platine, I was really drawn to the color from the pencil. It isn't completely silver or taupe. I can best describe it as a taupe with a hint of brown and a party of shimmer.
Close up of Rose Platine. Doesn't it look like a confetti party? There are silver, rose, and green shimmers infused with taupe. It's rather tough to decipher all of the colors in the eyeliner.
Aside from the usual blacks, browns, blues, and purples, I haven't found a perfect neutral color eyeliner. I went through my collection and pulled out the 2 colors that I thought might be similar. Below are comparisons of Rose Platine with Urban Decay's Gunmetal and MAC's I Get No Kick.
Swatches taken in lower light conditions. Rose Platine is a taupe with obvious shimmer, UD Gunmetal looks bluish gray, and MAC I Get No Kick is a frosty champagne. I have nothing in my collection that looks remotely close to Rose Platine.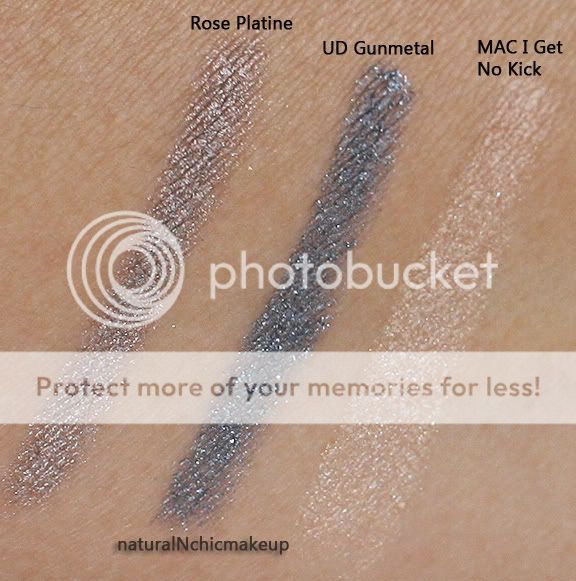 Swatches done by the window. Here, you can see Rose Platine leaning a bit brown compared to the swatches above. On my eyes, it is a shimmery taupe that instantly brightens up the eye. I use it exclusively to rim my bottom lashes. It doesn't show up as well on the top lashes unless layered on top of a darker color.
I really wanted to test out Chanel's claim on Rose Platine as a waterproof, long lasting eyeliner. After leaving the swatch for about 30 minutes, I did a scrub test on all 3 liners. I used a Kleenex and scrubbed as hard as I can over the swatches. Aside from the shimmers slightly rubbing off, Rose Platine simply did not budge. UD Gunmetal gave up a nice fight while MAC's Eye Kohl was practically non-existent.
Rose Platine glides smoothly on the eyes without tugging and lasts a full 9-hr work day for me. Again, I only use this to rim my bottom lashes. It doesn't bother my eyes as I do not experience shimmer fallout. I kept on pondering if I should purchase a back up since it is limited edition. I wavered until it disappeared from Chanel's website. It is sold out from Nordstrom's website and my local counters. Surely panic ensued for a couple of days before I found the last one at a Macy's counter.
Bottom line
: I personally love Rose Platine and highly recommend checking it out if you can. I have been using it every single day, which says a lot considering how many eyeliners I own. It is great at making my eyes look bright and fresh without being too white or shimmery. Rose Platine is my very first eyeliner and Chanel backup. It is unique, pigmented, and has excellent wear time. If Chanel ever decides to release an eyeshadow in the same shade as Rose Platine, I will be the first in line to grab one!
What are your thoughts on Rose Platine? Any potential dupes?