Chanel released 6 new long wear luminous eyeshadows called Illusion d'Ombre. All of these are part of the permanent collection and retail for $36USD. Out of the six, I picked Ebloui because the description seemed quite appealing. This is also a shade that's not include in the spring's Ombres Perles de Chanel quint. I'm not sure if this available at all counters yet. I purchased mine from Chanel's website. For those interested in seeing swatches of all 6 shades, Sabrina from TheBeautyLookBook and Amy at Cafe Makeup both have superb posts on them
here
and
here
.
Chanel included pictorial instructions on how to use the eyeshadow and the brush that's included. You can use the shade as an eyeshadow or to line the eyes.
Illusion d'Ombre eyeshadows come in a round glass jar that's similar to Armani's Eye To Kill eyeshadows.
The mini eyeshadow brush comes with a cute glossy black cap.
Unlike most brands where the mini brushes are practically useless, Chanel included a high quality and sturdy brush with each of the Illusion d'Ombre eyeshadows. Instead of using my fingers or a MAC brush, I tested Ebloui with only this brush. Whatever Peter Philips' vision is for the shadows, I'm sure he has a good reason to create/include these mini brushes.
From the jar alone, Ebloui sparkles in the sun with red, brown, and gold shimmer. The shade is a gorgeous red brown that's leans burgundy at certain angles. Ebloui has a very interesting texture. I think of it like a dry mousse cake that's not completely wet or dry. For those who are wondering, it is nothing like Jill Stuart's Eye Jelly. JS is wetter, has more glitter, and is more bouncy.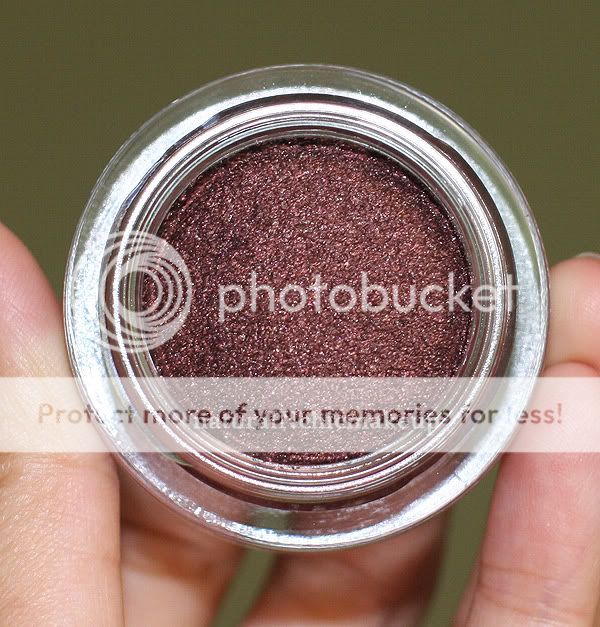 The swatch below is done by using the included mini brush. It was very easy to use and the color glided on effortlessly. Ebloui is nicely pigmented and simply gorgeous.
The shade is much more vibrant when taken with flash. As previously mentioned, it looks more burgundy/violet instead of reddish brown on me. It's not exactly the perfect brown that I've been searching for but it is quite beautiful.
Another shot by the window as the sun sets.
The swatch is rather similar to the shade seen in the jar.
About 20 minutes after application, I did a swipe test over the swatch to see if there are any glitter fallout. Similar to Armani's ETK and MAC's Cham Pale paint pots, the base color stays put but the shimmer can easily be wiped off. I brushed my finger lightly back and forth on the swatch so you can see the shimmer migration as shown below.
Although the shadow looks like a shimmery and glittery mess in the swatch, it is actually very pretty on the lids. I used the brush and applied the color directly onto my eyes without sheering it. Ebloui went on exactly as what you see in the swatches, a vibrant burgundy brown with subtle flecks of shimmer. I wore Ebloui for 7 hours over UD Potion Primer to test out the staying power. Aside from a tiny bit of shimmer fallout in the inner corner of my eyes, the shadow did not crease or fade.
Overall, I actually like Chanel's new Illusion d'Ombre in Ebloui. I haven't seen the other shades in person so I can't comment on them. Ebloui is a wearable color that you can use for both day and night. What's special about this shadow is how the shimmer subtlety glistens in the sun or under incandescent lighting. It's not a chunky, glittery, or overly metallic shadow by any means. In fact, this shade will look incredibly flattering for a night on the town.
Bottom Line
: I recommend checking out the new Illusion d'Ombre, especially Ebloui, at your local counters. For those who are not fond of shimmery/glittery eyeshadows, I think you will be pleasantly surprised by Ebloui. I find it very wearable. For those on a budget, $36USD is quite steep for an eyeshadow but do add at least one of these to your collection. Since they are permanent, take your time and try each shade on yourself before taking the plunge.
What are your thoughts on Ebloui? Which shade do you have your eyes on?