Ever since Guerlain's Terra Inca Sublime Radiant Powder became a part of my small bronzer collection, I have been obsessed with its beautiful fragrance. I told a Guerlain rep that if they took the exact same smell and bottle it up, I would purchase the fragrance without any reservations. Thus, I have been on a hunt to find the same intoxicating combination of Jasmine and Violet for the last couple of months. When Charleston Girl from
BestThingsInBeauty
told us about Guerlain's Limited Edition Aqua Allegoria Jasminora, my ears perked right up. Based on her wonderful descriptions of the fragrance, I had to try it out in fear of the LE factor. It is currently available at Sephora for $59USD.
Jasminora is described as a "sensual aroma of jasmine with elevated notes of white freesia and lily of the valley". I have included a picture of the ingredients for those who are interested.
As with many of their products, Guerlain's packaging is always modern and chic. The cap of the bottle has an imprint of a bee, to give the illusion of a bee sitting on top of a honeycomb.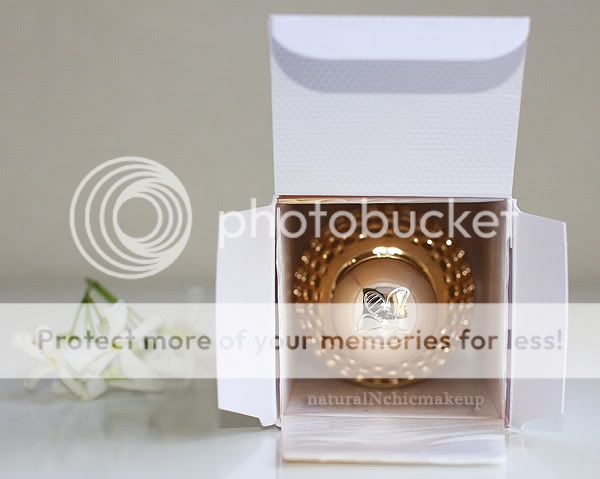 The gold honeycomb adds an elegant touch to the bottle's otherwise simplistic design.
Before I describe my experience with Jasminora, I must make a disclaimer that I am not an expert in perfume. I don't really know all of the technical terms or how to dissect the notes either. What I do know is that I love Jasmine and there's a particular smell that intoxicates me like no other. For those who are not familiar with Jasmine or what it looks like, I luckily do have a picture to share with you.
I came home to Jasminora last night and was as incredibly excited to try it out. When I first opened the box, I could detect the fragrance of Jasmine right away. I quickly plucked off the cute round top cap and sprayed it on both of my wrists. Whether it was the sweltering 99 degree weather or my internal body overheating, Jasminora turned out to be very sharp on me. It was strong in the sense that it kicked me in the nose every time I took a sniff of my wrists. I kept thinking "it's not Jasmine. Is it Mint? Freesia? or Lilly of the Valley?". Whatever it was, I couldn't put a finger to the smell. I just knew it was too sharp for me, even after the dry down.
I have several bushes of Jasmine in my backyard and had to run out to remind myself what Jasmine is supposed to smell like. It is sensual but soft, and not hard like Jasminora. I was disappointed but not deterred. So this morning, when the weather had cooled down considerably, I tried Jasminora once again on both of my wrists. It became a completely different fragrance - cool, sensual, crisp, and clean. It is unquestionably the fragrance of Jasmine and no other. It isn't sweet nor is it shy of its Jasmine notes. From the first spritz to the dry down, it is full body Jasmine.
Although Jasminora is no where close to the sweetness of Guerlain's Terra Inca Sublime Radiant Powder, it is a beautiful fragrance of its own. When I think of Jasminora, I think of a garden full of Jasmine on a cool summer morning. At that moment in time, it will just be you and your thoughts surrounded by the fresh and crisp fragrance of Jasmine. Guerlain's Aqua Allegoria Jasminora carries this image with me from sunrise well into sunset. As I sit here sharing my experiences with you, my mind has already drifted into a Jasmine garden of my own.
Have you tried Jasminora yet? What are some of your favorite fragrances?