One of the most anticipated and talked about item in Byzance de Chanel is the Rouge Joues Contraste. It retails for $43USD. You can purchase this on Chanel's website, at selected Chanel boutiques, or Nordstrom Seattle. It is certainly not a blush for the color shy. Rouge is undoubtedly red, it's not dark pink and definitely not fuchsia. It is an extremely vibrant red with shimmer.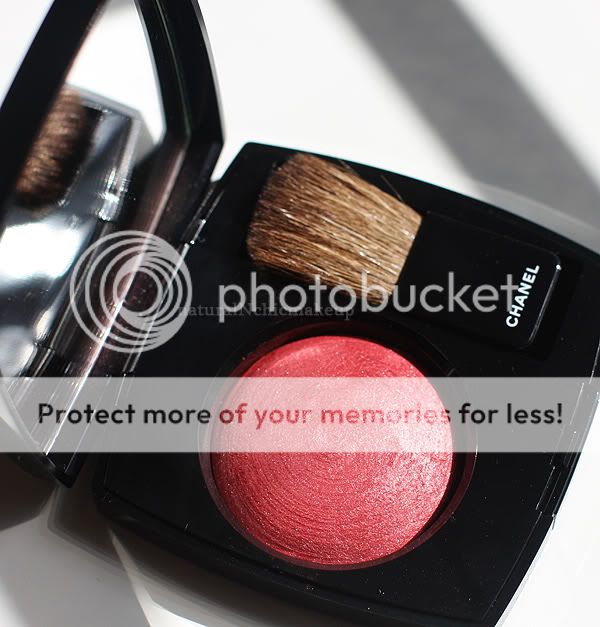 Rouge is limited edition and the blush is made in France.
Rouge swatches true to the color that is seen in the pan. To me, calling this blush "pigmented" is simply an understatement. With one light swipe, I get this extremely vibrant red with visible shimmer.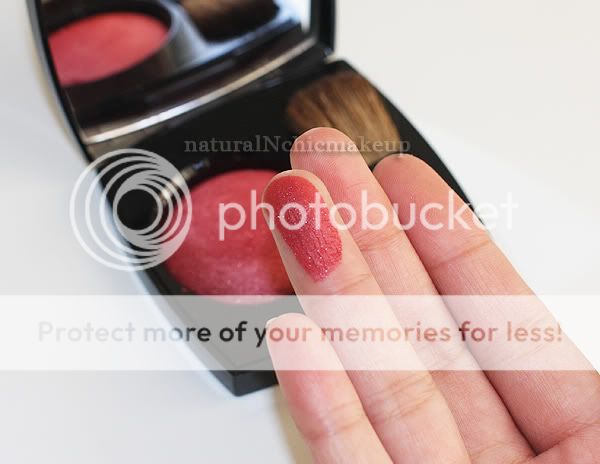 Below are the swatches on my skin. Although you can see the shimmer in the pan, it doesn't look like a glittery mess once applied. I blended the blush as shown in the first stripe but it still looks quite bright.
Taken with flash:
Overall, Rouge is a really beautiful red blush that is incredibly pigmented. It goes on smoothly with a single brush swipe. Chanel doesn't offer red blushes very often so Rouge is quite unique in its own right. With that being said, it is still completely out of my comfort zone. Due to the red pigmentation in my cheeks, it took a lot of work to make Rouge work for me. I used a 187 brush but still had to really buff it out to avoid looking like I got stung by a bee. Even so, someone still commented on how "flushed" I looked with Rouge. I like the blush for the pigmentation and uniqueness, but I do not love it. I simply have to layer it with a pink blush or highlighter to make it work for me. In all honesty, if I wasn't a die-hard Chanel fan and if Rouge wasn't limited edition, I probably would not have picked it up.
Bottom line
: Rouge is a unique shade with great pigmentation. However, it does require a light hand and some buffing to make it work. It will probably be a good shade for those with medium to dark skin tones. Those with pale and light skin tones will have to use a light hand/fan brush with this to avoid going overboard. If you are on a budget and don't want to work at applying this blush, I'd say think twice before purchasing Rouge. For those who are die-hard Chanel fans, or love red blushes, Rouge is a rare find that is unique enough to add to your collection.