Topkapi is a limited edition eyeshadow quad that is released in the Byzance de Chanel Collection. It retails for $65USD and can be purchased on Chanel's website, at selected Chanel boutiques, and Nordstrom Seattle.
The quad is made is Italy whereas the blushes are produced in France.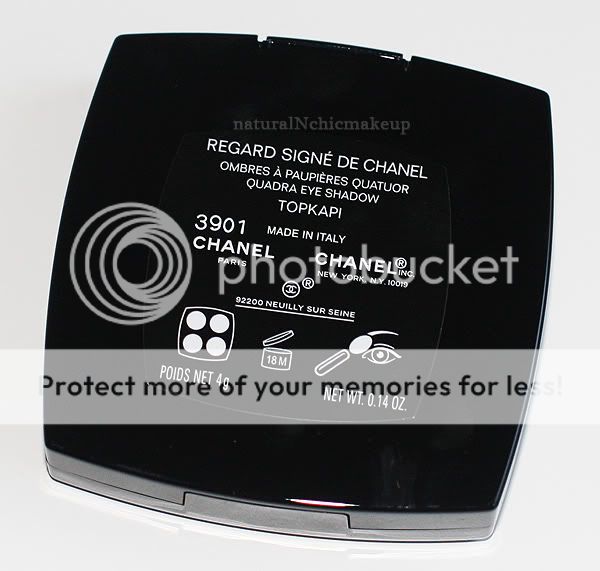 This quad includes 2 black sponges and a glossy black cover. Most of the other Chanel quads have clear plastic covers.
Topkapi's design is also much more intricate compared to Chanel's other eyeshadow quads. The Chanel logo and quilted pattern are imprinted in each of the four shades.
A close up of the quad shows the multi-color shimmer in each color. Topkapi includes a silvery taupe with multi-color shimmer, a gold with gold shimmer, a rich chocolate brown with multi-color shimmer, and a dark burgundy brown with multi-color shimmer.
Here is the Topkapi in direct sunlight:
A close up shows the different color shimmer in each pan. This quad is so visually stunning that I literally did not want to swatch or use it.
The first swatch is with indoor lighting, where the shimmer is not as noticeable. All of the shades in Topkapi have superb pigmentation. The colors went on smoothly without any glitter or shimmer fallout.
Image below was taken with flash. As with most quads, I generally like 2 out of the 4 shades. In Topkapi, I love every single one of them. All of the shades work well together to create both safe neutral looks as well as bold eye statements.
In darker lighting, the taupe shade looks very similar to Rose Platine, where there is a hint of pink with silver shimmer.
Here's how the shades look in the late afternoon sunset. They are richer and darker.
Topkapi is easily my favorite Chanel quad right now. I can see myself using this quad very often because the colors are neutral, yet they can be intensified to create really beautiful bold looks. Right after I did the swatches, I put Topkapi to use to see how the colors translate on my eyes. Instead of putting the darker colors in the crease, I did a reverse smokey eye and placed the taupe/gold combo in the outer corners.
I lined the upper lid with MAC's Powerpoint Eye Pencil in Industry, and put on 2 quick coats of Dior Inconic.
I also rimmed my lower lash line with Chanel's Rose Platine for light pop of color to brighten up the eyes. The final result is a simple look that can be worn to work without being too bold. You can punch up the intensity by adding more dark brown in the crease to create a dramatic smokey eye. Those who love shimmer will rejoice at how these shades look in the sunlight or under incandescent lighting.
Overall, I really love Topkapi. I think it is a highly quality quad that is well worth the high price. The shades are pigmented, smooth, and very easy to apply. They don't loose their intensity during blending either. I had no issues creating a gradient of colors using all 4 shades. I know some people had concerns about this quad being in the baked formula but rest assured, this is not a sheer quad or a glittery fallout nightmare.
Bottom Line
: Topkapi is now my favorite eyeshadow quad from Chanel. It is a versatile quad that can be used for work and play. You can use each of the shades individually as a simple wash of color on the lids, or all together to create numerous color combinations. With that being said, it is more expensive compared to the typical Chanel quads ($57USD vs. $65USD). For those on a budget and love taupes, browns, and golds, I believe Topkapi is well worth the investment. I have checked my eyeshadow collection but there isn't really anything from MAC that is a dupe for this quad. Topkapi is not similar to any other Chanel quad either. For those who are die hard Chanel fans, this is really one quad that should not be passed up. Topkapi is limited edition so grab one before it's gone.
What are your thoughts on Topkapi? Do you think it's worth $65USD?