Dior's Fall 2011 Collection came out with 2 new polishes - Tuxedo and Safari Beige. These retail for $21USD and I was told they will be limited edition. You can purchase these right now from Nordstrom. I was in a hurry to get the swatches up for you before the colors get snatched up. Therefore, I didn't have any time to clean up around the nails, etc in case you're wondering!
Being a neutral gal, I was hesitant about Tuxedo since it's so dark and blue. However, one glance at the tube alone made me want to take it home.
Each of the nail polishes come with a shiny silver cap with the Dior logo on top.
Tuxedo is a blue with blue shimmer. Dior drew inspiration for this shade from its own packaging, which the SA puts it as "the Dior blue".
Beige Safari is a light beige pink with very very subtle shimmer.
Here they are on my nails. The shimmer in Tuxedo and be seen really well in the sunlight.
Taken by the window:
Tuxedo:
Beige Safari:
As you can see, Dior translated Tuxedo into their signature "Dior blue". Indoors, Tuxedo looks like the dark blue base of the box. In sunlight, the blue shimmers makes it glisten like the lighter "CD" logo on the box. It is a really beautiful shade of blue.
The image taken with flash shows the pink tone in Beige Safari. I can't really see any of the shimmers on my nails either.
Here is Tuxedo in the direct sunlight with it's super pretty shimmers.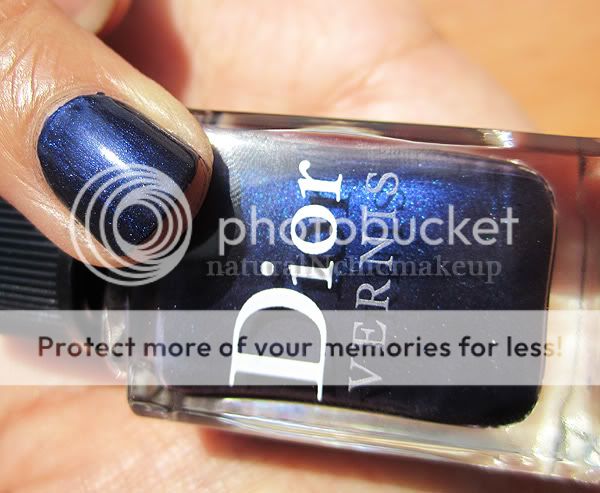 Tuxedo's formula is super easy to use, smooth, and goes on opaque with only 1 coat. I find that 2 coats looks better because the shimmers are more visible.
Beige Safari, on the other hand, was a complete nightmare. It reminded so much of Chanel's Mimosa formula - thick, streaky, clumpy, and it took forever to dry. I'm not sure if I got a bad bottle but the shot below shows my frustration. It was so much thicker compared to Tuxedo and smeared even after 15 minutes on the nail
. It turns out I the first bottle I picked up was bad. I did an exchange at the Dior counter and this time around, Beige Safari was so much better. It's not as easy as Tuxedo but was not at thick or clumpy compared to the first time I used it.
I really like the shade Beige Safari but the formula
completely turned me off
is not so bad with my exchanged bottle. It does take longer to dry compared to Tuxedo but the overall result is much better.
Bottom line:
Tuxedo is a true winner from Dior's Fall 2011 collection. I highly recommend checking out the shade at your local counter. Although I can't wear this to work on my nails, I can see myself rocking a pedicure with this in no time. I think Tuxedo will be sold out fairly quickly. As for Beige Safari,
unless the formula magically improves overnight, I simply cannot recommend it
it's a nice nude pink shade that's great to wear all year round. I wouldn't say it's a must-have shade though.
What are your thoughts on Tuxedo and Beige Safari?