Chanel Aquarelles is currently a Neiman Marcus exclusive collection that comes straight from the runway. Pink Cloud Joues Contraste is one of the pieces in this collection. It retails for $43USD and can be purchased from selected Neiman Marcus counters.
I have also heard that this collection will be on Chanel's website later this month.
It is now available on Chanel's website.
Here are the ingredients for Pink Cloud:
Although the compact says it's made in France, I think Pink Cloud has the baked European formula based on the swirls in the blush.
At first I was planning to pass on Pink Cloud because some reviews say it is super sheer. However, when I got to the Chanel counter, I really wanted to see how sheer truly is on my skin tone. In the pan, Pink Cloud is a light cool pink with very fine shimmer.
You can see the blue tone in the blush much better when I held it up near the window.
Pink Cloud is slightly chalky so you will see powder flying everywhere when you swirl your brush in the pan. The entire blush sparkles in the sun like Chanel's signature nail varnishes. It also looks much more pink in the bright sunlight.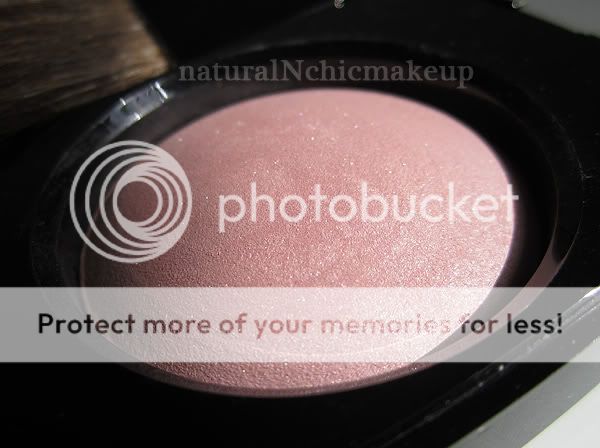 A close up shot of the fine shimmers in Pink Cloud shown below. The sunlight adds more color and depth to the blush. If you look at Pink Cloud in normal indoor lighting, it will look lighter and cooler as shown in the first 2 images.
In the finger swatch, Pink Cloud shows up as a slightly chalky satin pink with micro shimmer.
On my very tanned arm, it is a cool tone pink with tiny shimmers when taken with flash.
Without flash and in darker lighting, it is more pink and you cannot see the shimmer as well.
Some dupes and comparisons between Pink Cloud, MAC's Pink Cult,
Rose Ecrin
,
Orchid Rose
, and MAC's Shell Pearl below. In the pan, Pink Cloud is much lighter compared to all the other colors. It is closest to MAC's Pink Cult but is pinker.
On my skin, Pink Cloud is actually closest to Shell Pearl but it is not as frosty and has more shimmer. Pink Cult is matte and is more purple. Both Orchid Rose and Rose Ecrin are darker pink shades in comparison.
Here is how Pink Cloud compares with the other shades on the shimmer factor. Yes, it is shimmery but the shimmer is much more subtle compared to Orchid Rose.
Overall, I unexpectedly fell in love with Pink Cloud as a highlighter but not as a blush. If you purchase Pink Cloud hoping for a pigmented blush, you will be disappointed. It is pale, sheer, and will not show up on your cheeks. The best way to use Pink Cloud is to layer it on top of a blush that is 1-2 shades darker. When I layered it on top of MAC's Shell Pearl, it gives the most gorgeous subtle glow on my cheeks. I fell in love instantly. When I used Pink Cloud alone by itself, it did not show up at all on my cheeks.
Bottom Line
: Pink Cloud is a lovely highlighter but fails to deliver as a blush. It works very well when layered on top of a darker blush to either soften the color or add a beautiful glow. Prior to Pink Cloud, most highlighters leave me lukewarm. However, Pink Cloud brightens up the face without being too frosty, white, or gold like most highlighters. The light pink tint in this shade makes it a more versatile highlighter in my opinion. Pink Cloud gets a thumbs up from me from that standpoint. If you're on a budget, and are looking for a pigmented blush, save your money for Rose Ecrin, Rouge, or Rose Tourbillon instead.
What are your thoughts on Pink Cloud?