Chanel recently launched Taupe (84) Stylo Yeux Waterproof Eyeliner, a brand new shade in the Sophisticated Eye Collection. This has been added to Chanel's permanent collection for now, and can be purchased at selected Neiman Marcus and Nordstrom counters, or on Chanel's website. I'm sure this will be available at all Chanel counters as the collection slowly trickles into stores this month.
Taupe retails for $29USD.
All of the Stylo Yeux Eyeliners come with a small sharpener that's hidden at the bottom of the liner. It is really useful for sharpening the tips of the pencil, and is great for traveling.
The ingredients for Taupe Stylo Yeux Eyeliner at shown below. I am extremely surprised to see Bismuth Oxycloride listed. I have a severe allergic reaction to it in face powders/blushes. However, I have no issues with these eyeliners.
Taupe looks rather purple at first glance.
A close up shows the purple tint in Taupe and multicolor micro shimmers.
On my tanned hand, Taupe is a dark grey-brown with some purple. It is darker and much more purple compared to MAC's Satin Taupe.
A close up of Taupe on the lighter part of my arm:
Since the shade has more brown and purple, I compared with Chanel Rose Platine, Urban Decay's Rockstar, and MAC's Rave. Rockstar is darker and Rave is much more violet in comparison. Rose Platine is also lighter than Taupe.
Taken with flash:
Taken with natural lighting by the window:
Indoor lighting with flash:
Last but not least, indoor lighting without flash: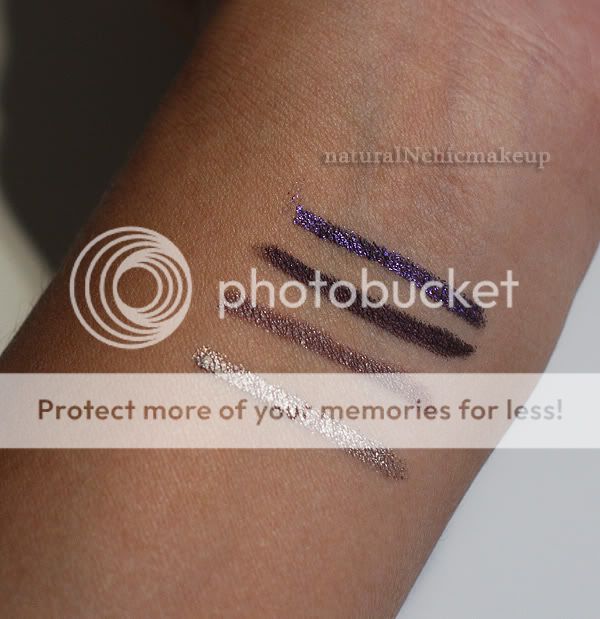 Overall, Taupe is such a complex color to describe. At certain angles/lighting, it can look like a dark-grey brown, while at others, it's more like a purple grey-brown. I don't know why I expected it to be a darker version of Rose Platine, but I'm really glad it isn't. I love this shade paired with MAC's Satin Taupe. It adds extra depth to the eyes and complements the shade very well. As with all Stylo Yeux Eyeliners, the staying power is more than awesome. These can easily last 8-12 hours on both on my upper and lower lids with very minimal fading.
Bottom Line
: Taupe StyloYeux is a beautiful complex shade that is well worth the money. I can definitely see this as a staple everyday shade. It's subtle enough for the workplace but is also dramatic enough for a come-hither-smokey eye. I think this will look beautiful paired with Fauve as well. If this was a limited edition item, I would purchase a backup without a doubt. Luckily, it is permanent!
What are your thoughts on Taupe? Yay or Nay?