In celebration of Allure's 20th Anniversary, Dior released a limited edition nail varnish, Silver Lake. This can be purchased exclusively on Dior's website for $22USD. At first I was really hesitant to pick up another silver nail polish because I already have Chanel Graphite and LMdB Tarnished Silver. However, I am quite glad that I had taken the plunge with this purchase.
In the sun, Silver Lake is a dark grey with silver and green shimmers. The green shows up at only certain angles so it was incredibly tough to capture on camera.
Here are the comparisons between Silver Lake, Tarnished Silver, and Graphite in bright sunlight. Graphite has visible gold shimmers whereas Tarnish Silver has a hint of blue. Silver Lake is also more of a light gray compared to Graphite.
The varnish flowed easily onto the nails and is opaque with 2 coats. It definitely was not streaky, clumpy, or even sheer. I think Dior is on to something with its unique tapered brush.
I was pleasantly surprised that Silver Lake is much darker on my nails compared to the color in the bottle. It is a gorgeous dark metallic gray with highly visible silver shimmers. This bold yet chic shade is quickly becoming one of my favorites.
In bright sunlight: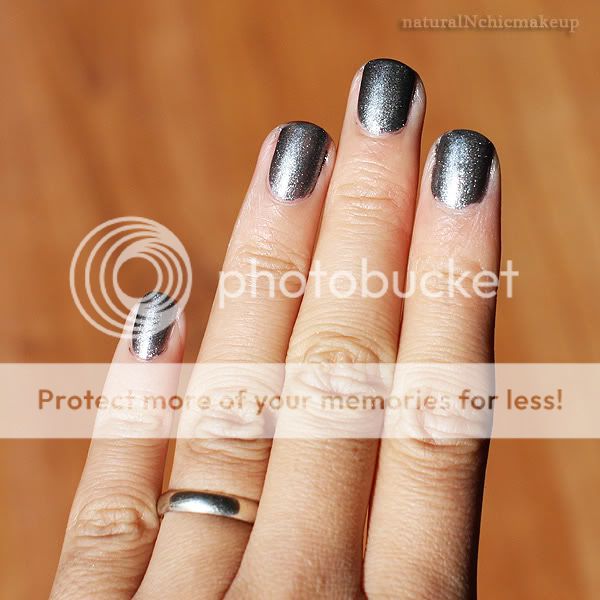 At another angle:
When Silver Lake is placed next to Tarnish Silver and Graphite, the differences are subtle but still noticeable. I honestly thought they would look really similar to one another. In dark lighting, Graphite's gold shimmers dominate over the gray base. Silver Lake is a dark sooty gray compared to Tarnish Silver's lighter blue-based gray.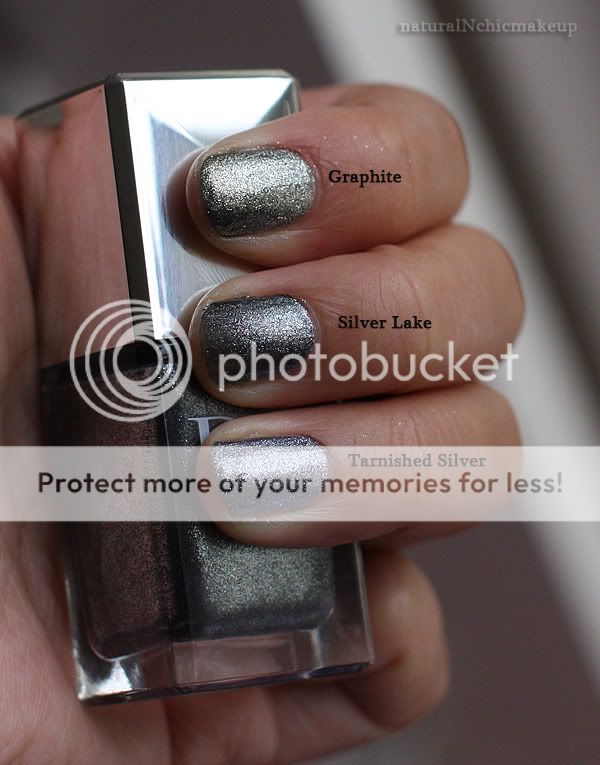 With flash:
In direct sunlight:
Overall, I am a big fan of Dior's Silver Lake. I am sure there are similar shades like it from other brands. However, I don't own very many silver/gray/gunmetal nail varnishes and this one is simply gorgeous on my nails. I get about a week's worth of wear time before seeing minor chipping on the tips. The fine shimmers in Silver Lake makes it not overly metallic or glittery.
Bottom Line
: Silver Lake is not as unique compared to Chanel's Graphite but is a very chic color for the fall/winter/holiday season. If you don't own any gray metallic polishes, Silver Lake is worth looking into. For those who already own a lot of similar shades to SL, I'm not sure this will blow you away. I would not say this is a must-have item but more of a nice-to-have.
What are your thoughts on Silver Lake? Other possible dupes?