It is December, a little less than 2 weeks before Christmas, and yes, I am writing a post about Chanel 2012 Spring Makeup Collection. Personally, I am not quite ready for Spring just yet as I sit here typing with a cozy sweater and a warm cup of cocoa. However, as a beauty blogger, it is my duty to entice you with what's to come this spring season. Let's get to it shall we?
Chanel's Spring Collection is now trickling into stores such as Macy's, Neiman Marcus, Nordstroms, Bloomingdales, etc. The collection is also available for purchase on Chanel's website.
First up are the infamous nail polishes called April, May, and June. Pictures of these shades have been circling the beauty community for quite a while with lots of excitement for all three.
June
is a creamy soft peach with no shimmers. This is a bit sheer compared to the other 2 and it requires 3 coats for full opacity.
May
is a bright pink that leans cool but not so cool that it clashes with my warm skin tone. Again, no shimmers and it requires only 1-2 coats.
April
is a unique shade that reminds me of a creamy beet red. It also has no shimmers and is my favorite out of the 3. This really requires only 1 coat for opacity but you can add 2 to make the color darker.
Swatches again in darker lighting:
Blush Horizon de Chanel
's design was pretty much destroyed by the time I reached the counter. I did a quick swatch of it and found it as a beautiful soft pink. For now, I will reserve judgment until my un-touched blush arrives from Chanel this Friday.
Eclosion Quad
contains 4 soft shades - peachy pink, ivory, light taupe-beige, and brown-plum. I like each of the colors but was not particularly blown away by the quad as a whole.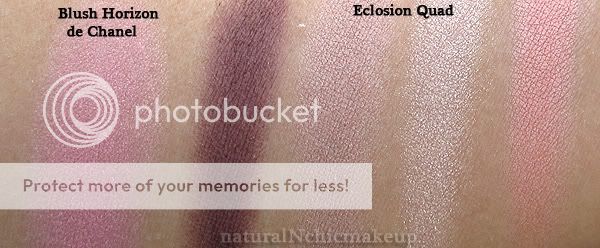 Tiger Lily
is a golden orange that has very subtle shimmers. In fact, I can hardly detect them on my arm. I can't quite pull of this shade but I'm sure some of you can.
Rose de Mai
is a light pink with a matte texture. I like the shade but wasn't particularly impressed with it either.
Jasmine
is a beige pressed powder with shimmers. When I applied this on my skin, I could not see the shimmers or any differences between before and after.
Here are the blush, quad, eyeshadows, and pressed powder all shown together:
In different lighting:
In bright sunlight:
The collection also has 4 Rouge Coco Lipsticks, 2 Rouge Coco Shines, 3 Glossimers, 1 Rouge Double Intensite, 1 eyeliner, and 2 lip liners.
Rose Topaz Rouge Double Intensite
is a medium rose with no shimmers.
Superstition (Rouge Coco)
is a beige with subtle gold shimmers. On me, this is a very nude beige that was not very flattering. It looks better topped with one of the shimmery glossimers in this collection.
Charme (Rouge Coco)
is a light rose pink with shimmers. I will do a more thorough review of this once I receive it on Friday.
Paradis (Rouge Coco)
is a coral pink that's fun and brightens up the face instantly. I thought this was the best shade out of the 4 offered.
Destinee (Rouge Coco)
was missing from the tester but brought out much later. I didn't get to snap a picture but it swatches/looks very similar to Etole.
Grenat Stylo Yeux Eyeliner
is a gorgeous deep garnet/burgundy with very small gold shimmers. Think Ebloui but deeper and more garnet.
Bois de Rose Lip Liner
is a medium rosewood.
Rose Corail Lip Liner
is a bright coral pink that's quite pretty.
Candeur Rouge Coco Shine
is a pastel pink. On my lips, it is super sheer and makes my lips look glossy but pale. This is my least favorite item of the collection.
Flirt Rouge Coco Shine
is a beautiful coral. I think it also has a tinge of pink and some very small shimmers. It instantly brightens up my face.
More swatches in bright sunlight shown below. Note that Flirt looks coral-pink in some light and coral in others. In the tube, it is coral.
Grenat
, Bon Bon and Bagatelle
in the bright sunlight are shown below. The SA accidentally put Coral Love in the tester instead of
Petillant.
Therefore, I don't have a swatch of Petillant but is is a much lighter, sheerer version of Coral Love with gold and coral shimmers. It reminds me of a coral version of my favorite Glossimer, Waterlily.
Bagatelle
is a bright rose pink with gold shimmers. This is the darkest and most opaque shade out of the 3.
Bon Bon
is a sheer gloss with pink and gold shimmers.
Grenat
and
Bagatelle
again in different lighting:
Candeur, Flirt, Rose Corail,
and
Bois de Rose
swatches in bright sunlight:
Overall, this is a beautiful collection with lots of pinks and peach/coral shades. I am a fan of the products because I know Chanel always creates very flattering colors. With that being said, I wasn't particularly blown away by any one item after seeing them in person. My top picks for now are Paradis lipstick, Grenat eyeliner, April nail polish, Flirt Rouge Coco Shine, and Bagatelle glossimer. As previously stated, I will reserve judgment on the blush until I receive it Friday. I will also do a more in-depth swatch/review of my top picks in the next couple of days. Stay tuned!
What are your picks so far from this collection? Did anything catch your eyes from these swatches?