I distinctly remember reading about Shiseido's Makeup Facial Cotton on several beauty blogs a couple of years ago. The bloggers raved about these cotton pads and how super soft they are on the skin. I was intrigued but very skeptical. $7 for a pack of cotton pads? You have to be joking, I thought. I simply balked at the idea of having to pay more than 0.99 for a pack of cotton balls or pads. Fast forward 3 years later, I once again was at a DFS in Japan. There was a sale at the Shiseido counter and they were selling these 2 for $10. Seeing how I can't walk away from a sale and with a nagging curiosity in me, I purchased exactly 2 to see what the fuss is all about. To this day, I can say that was the best decision that I've ever made. Shiseido's Makeup Facial Cotton has become a staple in my drawer and is my HG must-have facial cotton.
The facial cotton can be purchased at any Shiseido counter (Nordstrom, Macy's, Bloomingdales, etc) or online. It retails for $9.50USD (oh how the prices have gone up!) for 2.8 oz. Each pack contains roughly 80-100 rectangular cotton pads.
How are these cotton pads different from the usual cotton balls? They are thicker, much softer, and most importantly, they do not leave behind little cotton fibers all over your face. The image below shows the thickness of 3 cotton pads:
Here is the thickness of each individual pad: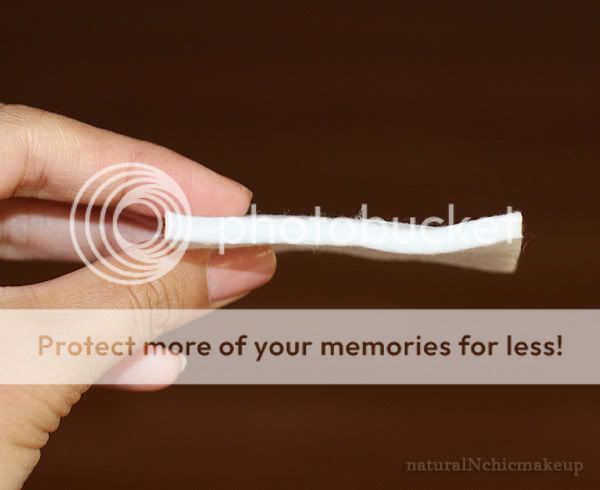 I usually do not need an entire pad to apply toner or remove eye makeup. Therefore, I cut each in half to use each time. It takes about 2-3 months for me to go through each pack depending on frequency of usage.
The pads are 100% cotton so they are very soft on the skin. It is designed for maximum absorption so when I use them, I don't have to use as much toner, lotion, nail polish remover, or eye makeup remover. They are also nice and soft on the skin and eyes.
For tough jobs such as removing dark and glittery nail polishes, I use an entire pad with some polish remover. I remove nail polish on 5 fingers with 1 side and the remaining 5 with the other side. With cotton balls, I have to use at least 3-4 and a ton of nail polish remover. The same goes for removing eye makeup. I only need to use 1/2 of a pad to remove heavy eye liner/mascara. Since the pad is thick cotton, it does not leave behind those annoying cotton strands in my eyes or on my fingers.
Another cotton pad that is comparable to Shiseido comes from Shu Uemura. It is slightly thicker and bigger. I also purchased these in Japan out of sheer curiosity. These cost $10USD for 90 pads.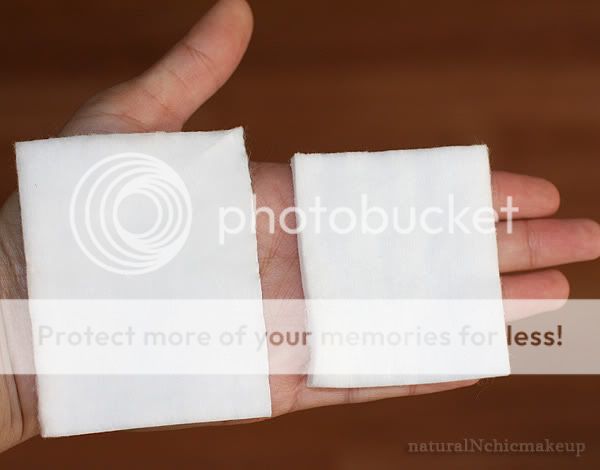 When placed on top of the Shu Uemura pads, you can see that the Shiseido pad is only a tad smaller.
With Shu Uemura, I can cut the pads into 3 smaller pieces. If you do the math, one pack can be as much as 270 smaller pads. The one reason I cannot say the Shu Uemura pads is my HG is because it is harder to purchase in the US compared to Shiseido. There are no local counters of Shu Uemura so it can only be purchased online.
Overall, I really love Shiseido's Makeup Facial Cotton pads. They are strong, soft, and versatile. I have a tough time going back to traditional cotton balls/pads after using these. The pads greatly reduce the amount of products that I have to use and is very gentle on my face/eyes. I stock up on them every time there is a Sephora or Shiseido F&F event.
Bottom line
: Give these cotton pads a try. They are worth every penny even though they cost $9.50 per pack. You don't need to use a lot and it will cut down the amount of toner/remover you have to use compared to traditional cotton pads. It is also much gentler on your skin.
Have you tried Shiseido Facial Cotton before? What's your take on traditional cotton balls vs these?