A couple of months ago, I purchased Stila's Lip Glaze Set from Costco for $16.99USD. The set came with seven 0.05 fl oz best selling lip glazes. I thought it was a great deal since a set of 8 costs $25USD from Sephora.
The 7 shades in this set are: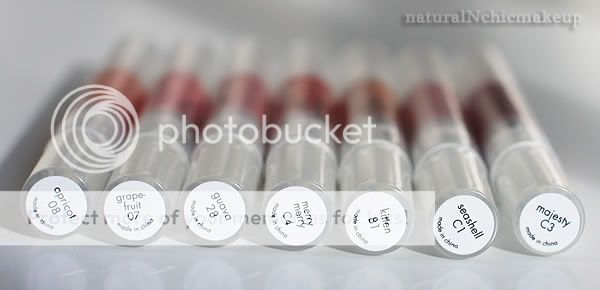 Stila Lip Glazes is different from your traditional doe-foot applicator. It is a click pen with a white brush tip. For first time users, I recommend tilting the pen upside down and twisting the bottom of the pen several times. You will hear a clicking sound every time you turn the pen. Keep on turning until you see gloss ooze out of the white tip.
Below is a shot of the shades in bright sunlight. Some of them have shimmers while others do not. You can also see the gloss saturate the tip of each pen.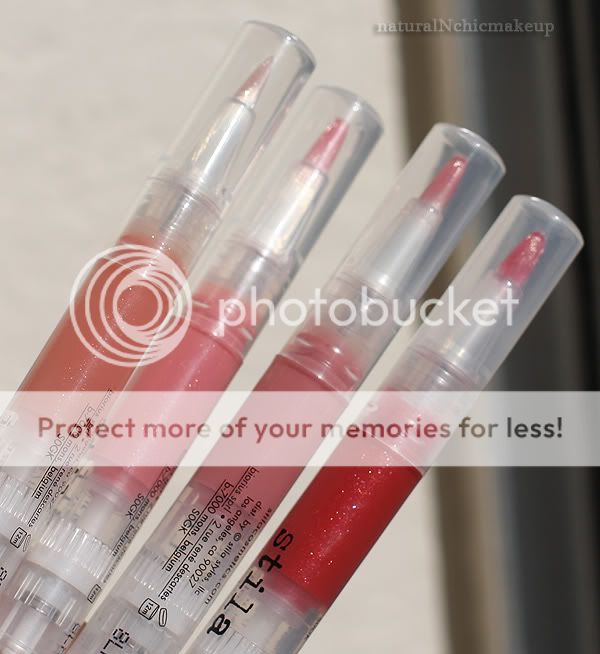 Stila does include a plastic cap on top to protect product transfer, which makes it easier to store these lip glazes.
Apricot (08)
is described as a melon nectarine and looks that way in the pen. However, in the swatch, it is a very sheer beige-peach that gives the slightest hint of shimmer. This is more of a lipstick topper for me. By itself, it is too sheer.
Grapefruit (07)
is a soft pink with shimmer. It is a little bit more pigmented compared to Apricot but I still find this more suitable as a lipstick topper. It is sheer by itself.
Guava (28)
is a beautiful rosy pink with no shimmer. It is more opaque compared to Grapefruit and Apricot. On my lips, this gives a slight rose tint.
Merry Merry (C4)
is a red with red and gold shimmer. It is a bright color that is quite opaque on my lips.
Kitten (B1)
is a coral-copper with gold shimmers. It's a beautiful shade that can be used by itself or on top of a lipstick.
Seashell (C1)
is a pink with gold shimmers. It reminds me of a much lighter version of MAC's Nymphette.
Majesty (C3)
is a bright fuchsia with no shimmers. It is quite bold by itself.
Overall, I find Stila's Lip Glazes quite fun. They are definitely "ultra-high shine" lipglosses. I find them slightly tacky but not so much that it bothers me. I like the click pen packaging but find it a little difficult to use the brush tip applicator. With darker colors such as Majesty and Merry Merry, the brush tends to smear the gloss all around, making it difficult to get a clean application around the edge of the lips. In terms of the fragrance, some shades such as Guava smells great while others have very strong artificial sweet scents.
Bottom Line
: Stila Lip Glazes costs $22 at regular full size (0.08). With that in mind, I think you get better bang for the buck with the gift sets. My favorite shades from this set are Apricot and Seashell, two great lipstick toppers. I am happy with this set but will not splurge for a full size gloss given the cost and size of the product. I am also bothered by some of the shades due to their incredibly strong fragrances.
Have you tried Stila's Lip Glazes? What are your thoughts on them?