Burberry's Midnight Brown Sheer Eyeshadow came out in the Fall 2011 Collection. It retails for $29USD and can be purchased exclusively at selected Nordstrom counters. I took advantage of the triple point event and took this home without any hesitation.
Midnight Brown is quite different from the other 21 shades due to the addition of shimmer. Although I can see multi-color shimmer in the pan, only the silver sparkles are noticeably visible upon application. Isn't it gorgeous though?
The ingredients list for those who are interested:
Despite being labeled as a "sheer" eyeshadow, Midnight Brown is anything but sheer. It is a lovely medium brown with shimmer that translates beautifully on my eyes. As previously mentioned, the eyeshadow is incredibly smooth and the formula is simply divine.
I shall let the color speak for itself in the swatch below: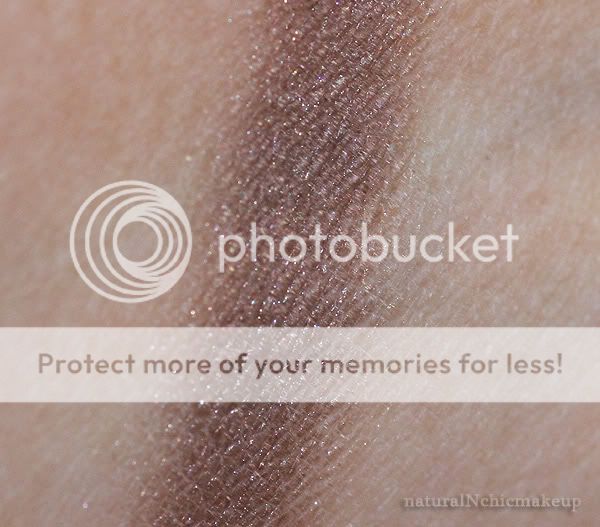 In the pan, Chestnut has more of a bronze undertone compared to Midnight Brown. Rosewood is lighter and more taupe.
All 3 shades are lovely but Midnight Brown is truly the new star to this lineup. The additional shimmer really makes my eyes pop. You can instantly go from day to night by patting Midnight Brown on top of Chestnut or Rosewood. I also find it impressive that I don't get those annoying glitter fallout or migration with this formula.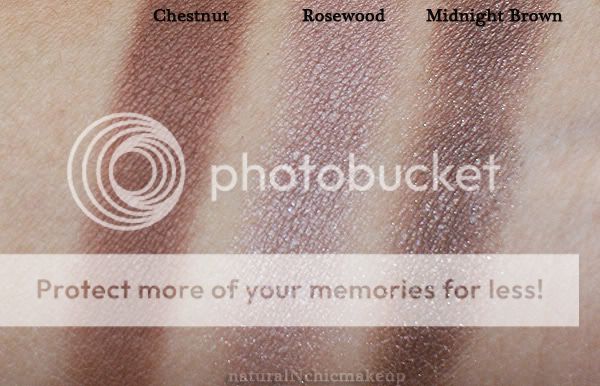 Bottom Line
: Midnight Brown is a truly outstanding shade from Burberry. I am happy that this is part of the permanent collection. For those who are into neutral shades like I am, Midnight Brown will certainly not disappoint. I do highly recommend checking this out. As much as I love the other shades from the line, this is quickly becoming one of my favorites. For those looking for a dupe, I am sure there are similar shades from other lines but nothing is exactly quite like Midnight Brown. The pigmentation and texture of this alone makes it worth your time and money. Get it. No really. Add it to your collection. You won't regret it.
What is your favorite shade from Burberry? Have you tried Midnight Brown yet?