While I was in Asia, all of the Chanel counters had a beautiful display of the newest collection, Chanel Les Expressions de Chanel 2012. I was very tempted to take a picture but the SA was watching me like a hawk. Nevertheless, I did manage to sneak in a couple of photos to share with you. This collection is not yet available in the US and I'm not sure when it will be released.
The collection has 3 eyeshadow quads - Intuition, Variation, and Spices. Intuition is new and paired with Vision Illusion D'ombre. Variation is very different from the old Variation quad that was available back in 2007. This is paired with Illusoire. The Spices Quad is paired with Abstraction Illusion D'ombre. Although I've read the 3rd quad should be Eclosion, all the counters I visited had Spices on the displays.
The Variation Quad has a deep eggplant, glittery plum, silver-taupe, and light pink. I was fond of the silver taupe shade but found the quad too glittery for my liking.
From the swatch, I believe the Chanel Spices Quad is part of the permanent line. This has a lovely mixture of pink, peach, light coral, and brown shades.
Since Illusoire is part of the permanent range, I only swatch Abstraction and Vision Illusion D'ombre. Personally, I am not a fan of Vision. This was very sheer and took lots of layers to build up the gold color. It was also clumpy and did not apply evenly. Abstraction on the other hand is super smooth and pigmented. It is a duochrome color of pink and gold, which is much prettier in real life.
Out of the entire collection, I only picked up Intuition Eyeshadow Quad.
Oh how it sparkles in the sun!
In natural lighting: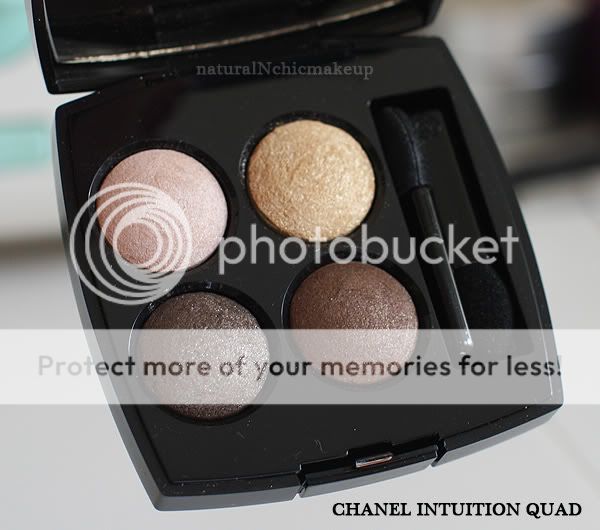 Intuition has a soft shimmery pink, gold, chocolate brown, and deep brown with silver shimmers.
This quad can be applied both dry or wet. When used dry, the gold shade is not as vibrant and will take several layers to show up. However it is much more pigmented when it is wet.
Despite looking glittery, I experienced no shimmer fallout during application. Everything went on quite smoothly with the exception of the gold shade.
Intuition's colors are not particularly unique or earth shattering but they are beautiful and chic. I love using this for work as well as a night out on the town. You really can't go wrong with these neutral shades. For those who are iffy and can't decide between this and the new Rives Quad from the Fleur de Lotus Collection, my recommendation is Rives. It is hands down one of the smoothest baked formula eyeshadow quads I have purchased to date from Chanel.
Bottom Line
: Chanel Les Expressions de Chanel Collection has quite a few options for you to choose from. All of the eyeshadow quads are in the baked formula, which tends to have at least 1-2 sheerer shades. I thought Intuition was the best out of the 3 but Variation is pretty nice as well. I hope this collection will come to the US some time later this year. For those in Asia, this is already released at all Chanel counters.
What do you have your eyes on? Which quad appealed to you most?